Burger King
is a global chain of Hamburger fast food restaurants headquartered in Miami-Dade country, Florida, USA. The Company began in 1953, as "Insta-Burger King", a Jacksonville, Florida-based restaurant chain. After financial difficulties the following year, Its two Miami-based Francishees, David Edgerton and James MacLore, purchased the company and renamed it Burger King.
In 1998, Burger King had a promotion of Kids' Meal toys based on various Nickelodeon TV shows. The five shows they toys were based on were Hey Arnold!, The Wild Thornberrys, Cousin Skeeter, Allen Strange, and Action League Now!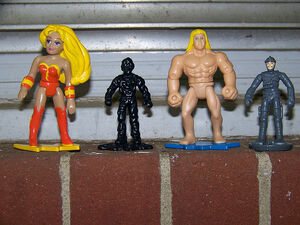 The
Action League Now!
toy was a four-pack of mini figures of the show's heroes;
The Flesh
,
Thundergirl
,
Stinky Diver
, and
Meltman
. The Flesh and Thundergirl were each a two-piece minifigure that had to be assembled and could articulate at the waistline. Stinky Diver and Meltman were each a one-piece minifigure.
The commercial featured The Flesh carrying crates of the toys to Burger King, and accidentally tossing one onto Thundergirl, Stinky Diver, and Meltman. Jim Krenn provided the voices of The Flesh and Stinky for the commercial.